What is the best age for newborn photography?
The most common question we get asked is, What is the best age for newborn photography?
The optimal time for professional newborn photography Melbourne is typically within the first two weeks of the baby's life,  particularly if you're looking for a Melbourne newborn photography session with Jacinta Studios. Personally my favourite age is either day 12 or day 16-18. As a newborn photographer with over a decade of experience I have worked with all ages and find these days tend to have the best outcome. Avoiding day 13-15 I feel is best, due to your little ones first growth spurt, this is where they will tend to be hungry and unsettled more often due to wanting to bring in more milk supply.  
Newborns within the first two weeks of life are generally more cooperative and sleepy, making it easier  to capture those perfect poses and expressions. In addition, babies at this age still have their adorable newborn features such as fuzzy hair, tiny fingers, and wrinkled skin, which many parents want to document in their newborn photos.
However, it is possible to capture beautiful newborn photos beyond the two-week mark. As an experienced Melbourne newborn photographer, I've has photographed babies up until 12 weeks old. Even documenting my youngest daughter Vera posed as a newborn up until 2 years of age! Check her out below in one of her images from 8 weeks of age. This was back in 2014!
While it may be more challenging to pose older babies, and not recommended, I realise that there are certain situations where it isn't possible to have newborn images within the first few weeks of birth. In these cases I works closely with parents to create a comfortable and safe environment for their older baby, using my expertise and creativity to capture beautiful, natural moments.
Below is an image of baby Serafina at 6 weeks of age. So when summing up. "What is the best age for newborn photography" It comes down to many factors, but for best results we recommend sticking within the first 3 weeks of birth.
Should parents and siblings be in the photos?
Ah YES!! Absolutely! Without question.
Parents and siblings should definitely get in the photos with your newborn! As they say, a picture is worth a thousand words, and what better way to capture the joy and love of this special moment in your life than with a family photo. We know you might be feeling a little tired or not at your best, but trust us, these memories are priceless and you will cherish them forever.
And let's be honest, as a new parent, you might not have had time to put on your fanciest outfit or perfect your hair and makeup, but that's where my posing expertise comes in! I know all the best angles and poses to make sure you look amazing, even if you're not feeling your best. And if you're worried about any post-baby bumps or blemishes, don't fret! I use my editing skills to make sure you look flawless in the final product.
In addition to capturing the bond between you and your partner with your new bundle of joy, family photos with your newborn are also a wonderful way to introduce your little one to the world and document their early days with their loved ones. So don't miss out on this opportunity to capture these precious memories. Get in the picture, and let me help you create timeless images that you will treasure for years to come!
What should I wear?
Preparing for your newborn session can be both exciting and daunting, especially when it comes to deciding what to wear. However, at our studio, we have a plethora of gorgeous options that will make you look and feel amazing! As a new mum, we understand that your body has just undergone a major transformation, which is why we take the stress away by offering many neutral gowns to help you feel comfortable and confident during your session. And for young girls, we have equally beautiful options to match, as well as a few shirt options for dads and young boys.
Now, we know that the temptation to fit back into your pre-maternity jeans is real, but trust us when we say that your maternity jeans will look amazing! Your body has accomplished something incredible, and we want to celebrate that. So, leave the stress behind and wear what feels comfortable and makes you feel like the glowing, amazing mum that you are.
I love to capture those intimate moments between mum and dad, as well as close-ups of you snuggling your new love. To make the most of these poses, we recommend  soft, neutral colours as they allow your baby to be the star of the show.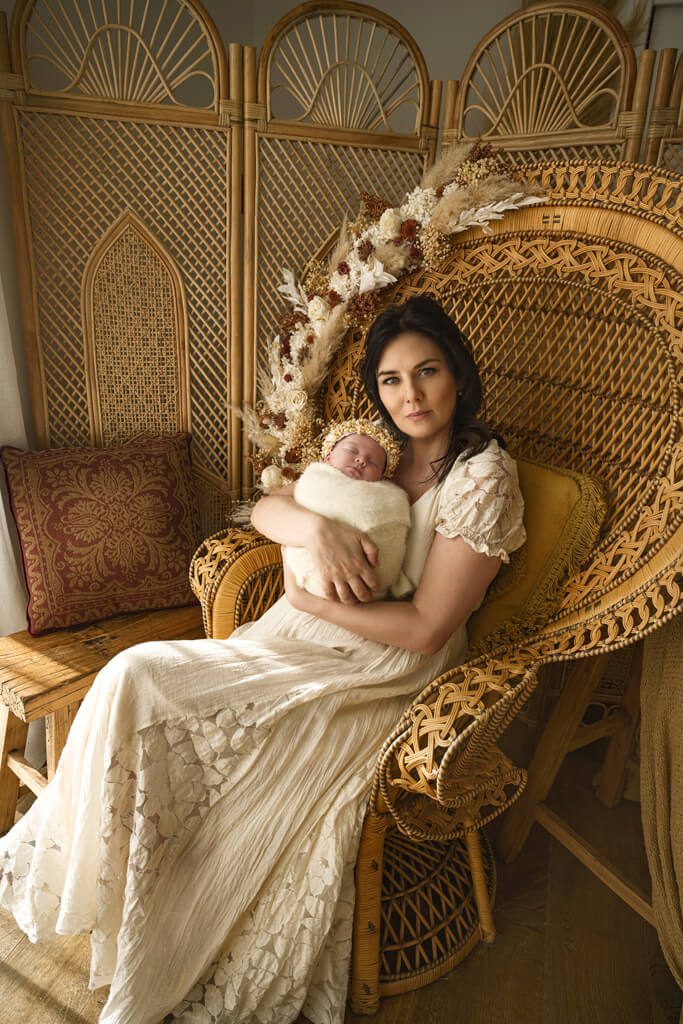 So, don't stress about what to wear to your newborn session – we've got you covered with a range of gorgeous options that will make you look and feel your best. Just relax, enjoy the experience, and let us capture those precious moments that you'll cherish for a lifetime.
What are the most comfortable poses for a newborn? 
As every newborn is unique, there is no one-size-fits-all answer to which poses are the most comfortable. However, I believe in keeping newborns as comfortable as possible throughout their entire session. That's why we work with the baby, never forcing a pose that doesn't come naturally to them.
 Every baby moves in their own way, and will generally mimic the way they were posed within the womb. We use this knowledge to safely pose your little one in a way that feels natural and comfortable for them. We keep your baby wrapped throughout their entire session, including with their nappy on, just as we would want to be kept warm and snug while sleeping.
I've developed a routine to manage a 4-5 set up sequence, all while keeping your baby wrapped up and comfortable. Our priority is to ensure that your baby is happy and relaxed, which in turn makes for the most beautiful and natural photos. So, whether your baby is in a classic pose or a more unique one, we always make sure they are as comfortable as possible throughout their entire session.
 Newborn photography is a beautiful way to capture those first few weeks of your baby's life, and there is no right or wrong way to do it. I understand the importance of these precious moments and work tirelessly to ensure that your newborn photography session is a comfortable and enjoyable experience for all involved.
Whether you are wondering about the best age to photograph your newborn, what to wear to your session, or whether parents and siblings should be included in the photos, we are here to answer all of your questions and guide you through the process.
If you are after a unique and memorable newborn photography experience Melbourne,  I would love to hear from you. Please get in touch with us today to learn more about our services and to book your session.
---
---
You might also like
---